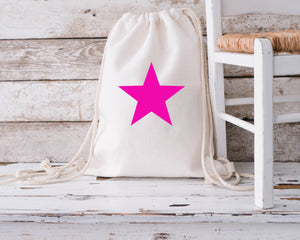 Hot Pink Star Design Canvas Gymsac Bags
These are just stock items to clear space for new products. There are no faults or defects.
This multi functional bag makes a fantastic gym bag for your son or daughter, or can be used for storage or for carrying a number of different products.  100% cotton, 140gsm and printed on one side.  
Dimensions: 37 X 46cm
Maximum embroidery: 18 tubular hoop
Capacity: 12 litres