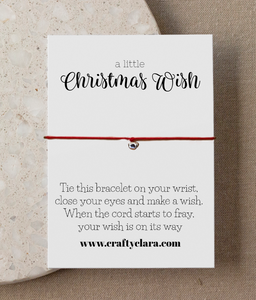 A little Christmas Wish. Bell Bracelet
A little Christmas Wish. The bracelet has a mini Christmas bell charm in various colours. Tied with red waxed cotton which measures approximately 30cm in length. These are tied on so can fit any size. If you keep the cotton dry it will not age too soon. These are presented on white A6 card and comes in a cellophane bag. The bell charm will be in any random colour from silver, gold, red, green or purple or pink.

The message on all cards is:
Tie this bracelet on your wrist,
Close your eyes and make a wish.
When the cord starts to fray,
Your wish is on its way!
*PLEASE NOTE THESE ARE NOT SUITABLE FOR SMALL CHILDREN DUE TO SMALL PARTS. CHOKING HAZARD*